Vertical Blinds Buying Guide
Features and Options: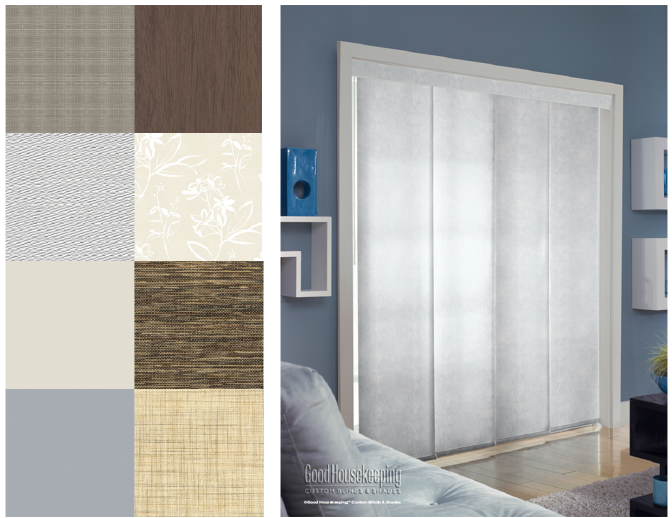 Vertical window blinds are the perfect covering for sliding glass doors and so much more. These blinds feature 3.5" gently curved vanes and hang from top to bottom.
The Unique Benefits of Vertical Blinds:
Pivot the vanes to easily control light and privacy
Blinds come in a variety of materials, from soft fabrics to durable faux wood, offering both a contemporary alternative to drapery, and the more traditional look of wood blinds.
Select Blinds' vertical products come standard with an auto alignment feature to quickly straighten your blinds if they happen to get twisted by children or pets.
These versatile window coverings are offered in a variety of colors and textures, sure to suit your home decor needs.
All our vertical blinds come standard with a valance that will provide a finished look. However, some people prefer not to use the valance for a modern and chic look. A number of our products offer a round valance which maintains all the features of the standard valance but offers a round corner that allows louver material to flow continuously around the corner in a soft and more decorative look.
Fabric vertical blinds, like THESE, have the channel panel insert option. This is a PVC backing where the fabric vane is inserted into.
The channel panel provides two benefits:
Light blockage
Vane stability
Care:
Vertical blinds are extremely easy to care for. Dust is a common enemy of horizontal blind and shade products. Verticals are less susceptible to dust as gravity works with this style of window treatment. Our verticals can all be cleaned with water or a mild detergent.
Safety:
Vertical window blinds offer a wand control that gives you a 100% cord-free application which is great for a home with children and/or pets. All of our verticals are now 100% cordless. After all, we believe peace of mind and child safety should come standard.
Was this article helpful?