Product Information
Why You'll Love Them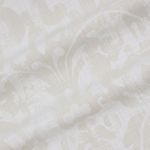 Embossed Fabric
Easy-care fabric with linen-like finish to stay crisp-looking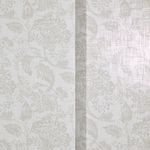 Intriguing Silhouettes
Delicately detailed patterns to filter soft, incoming light
How They'll Help You
Imagine subtle light filtering into your space through an embossed pattern design. Our White Embossed Panel Tracks will do that beautifully, and more. These white panel track blinds are excellent solutions to adorn your wide windows and sliding doors at home. They can also serve as stylish room dividers, and even as unique closet doors. The panels can easily be hung from the ceiling, over doorway openings, or across closets.
From a visual design perspective, white is an all-star neutral color that goes with just about everything. The chic, white-on-white textured patterns bring an uplifting burst of refreshing energy to any area of your home. When light filters through them, you'll be captivated by the silhouettes they create via the linen-like fabric. Designs include delicate florals and modern geometric patterns to expand your options when it comes to complementing any design style, color scheme, and décor.
Multiple panel-stacking options are possible, as you choose between two to eight panels to distribute for covering the area needed (different panel configurations are available, depending on the number of panels you choose and whether you go with split stack, or with left or right stack). Operation is smooth & easy, with a wand for left or right stack, and Continuous Cord Loop for split stack. Note that the width of each custom panel will depend on the total width of the area you are trying to cover and on the number of panels you select. The smooth design of the solid aluminum tracks along the headrail offers white or gray as color options. The matching weighted bottom rails keep your panels from bunching and wrinkling as they hang in place. A two-inch overlap between panels makes for a crisp and seamless appearance when the panels are closed.
Coordinate with care along with our White Embossed Roller for a nice designer finish and show off a clean, streamlined look throughout your entire home.

Sample First
Concerned about getting the correct color, pattern or material? Don't be. We'll send you up to 15 free samples of any product so you can order with confidence and know exactly what your custom color will look and feel like. And we'll ship them to you for free!
Pick Your Color / Get FREE Samples