Product Information
Why You'll Love Them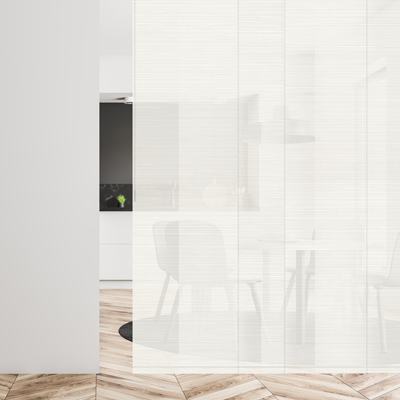 Versatile
7% openness factor reduces light coming in while still letting you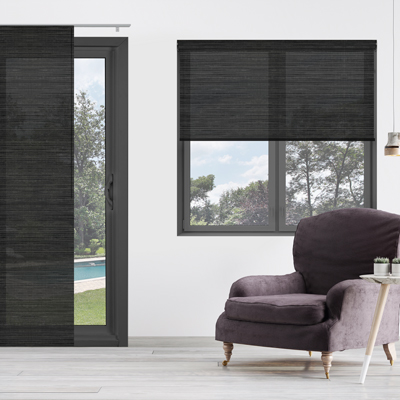 Continuity
How They'll Help You
You enjoy the soft, natural light coming through your windows throughout the day, right? Except at certain times, like maybe before you're fully awake in the morning when the rising sun is making you squint. Or when the sunlight is coming through the windows at sundown, and you can't see your TV screen. Maybe you have blinds or shades on those windows, and your only option is to close them completely. Here's something else to consider.
Switch to light filtering Nomad Solar Panel Track blinds! These designer solar shades block out direct sunlight and protect your interior from fading. They look fabulous from the exterior. They also help keep heat and glare off the glass on doors and windows while letting you still see outside.
These solar blinds are made with a unique weaving technique using PVC and plastic fibers. The result is a long lasting textured fabric that looks nothing like your typical solar screen blinds. Hang one on to six custom fabric panels in minutes to give your rooms a refreshing new look. Hang them from the ceiling as dividers to add more spaces. Or pull them all the way open, all the way closed, or staggered. Or stacked neatly. The panels stack one behind the other anywhere to control light and privacy. Enjoy the tailored touches like weighted bottom hems and optional matching cornice boards. You'll be proud to have them hanging anywhere in your home.
Sample First
Concerned about getting the correct color, pattern or material? Don't be. We'll send you up to 15 free samples of any product so you can order with confidence and know exactly what your custom color will look and feel like. And we'll ship them to you for free!
Pick Your Color / Get FREE Samples
Happy Customers
"I'm very impressed with Select Blinds. They made ordering very simple, from free samples that I could see in my house to questions about whether certain window treatments would work for my windows. The customer service reps were very friendly and helpful."
- Jennifer E., Seneca, NY
"I have been a SelectBlinds.com customer for a number of years. They are an easy company to deal with, their products are excellent, and the speed at which they deliver them is awesome. Installation is easy and they have great customer service support. I'm a very satisfied customer!"
- Kerri P. Scottsdale, AZ
See More Reviews
Specifications
Recommendations
Widths greater than 124" require a spliced track for maximum support. A spliced track is two tracks joined together.
Cornice boards wider than 124" will be made up of two separate cornices that are installed side by side.
Standard panel overlap: 3"
Overall panel track will be 3/8" less on width and 1/2" on height.
There is no light gap between the rail and the panels.
Inside mount deductions: 1/2" off of panels, 1/4" off of headrail. 1/2" off of height. Deductions may vary +/- 1/8".
There will be a 1/2" light gap at the bottom of the hanging panels.
Total height includes panels plus the track. Panels will be approximately 1-3/8" smaller than height ordered for inside mount and 1" for outside mount. With a cornice, it will be 2-1/4" smaller than height for inside mount and 1-7/8" smaller for outside mount.
Calculation for finding panel width is: Ordered track width + Appropriate panel count (provided below)/ Divided by how many panels ordered= Panel Width (Round up to nearest 1/8")
Appropriate Panel Count: 2 panels + 3", 3 panels + 6", 4 panels + 9", 5 panels + 12", 6 panels + 15", 7 panels + 18", 8 panels + 21", 10 panels + 27"
For example: If you are ordering a track at 70" wide with 7 panels- 70+18= 88/7= 12" panel width.
Outside mounted panel tracks that are left or right stack will have the wand placed on the leading edge of the front panel. All other configurations will have the wand placed behind the leading edge of the front panel, hidden from view. Free Flow panel tracks will not have a wand.
Right control stacks panels on the left. Left control stacks panels on the right. Free flow panels can be stacked anywhere.
If outside mount is selected ceiling mount hardware will need to be requested through customer service.
Fabric has a 7% openness factor.
Panels may have an approximate 1/2" deep gap between them.
Dimensions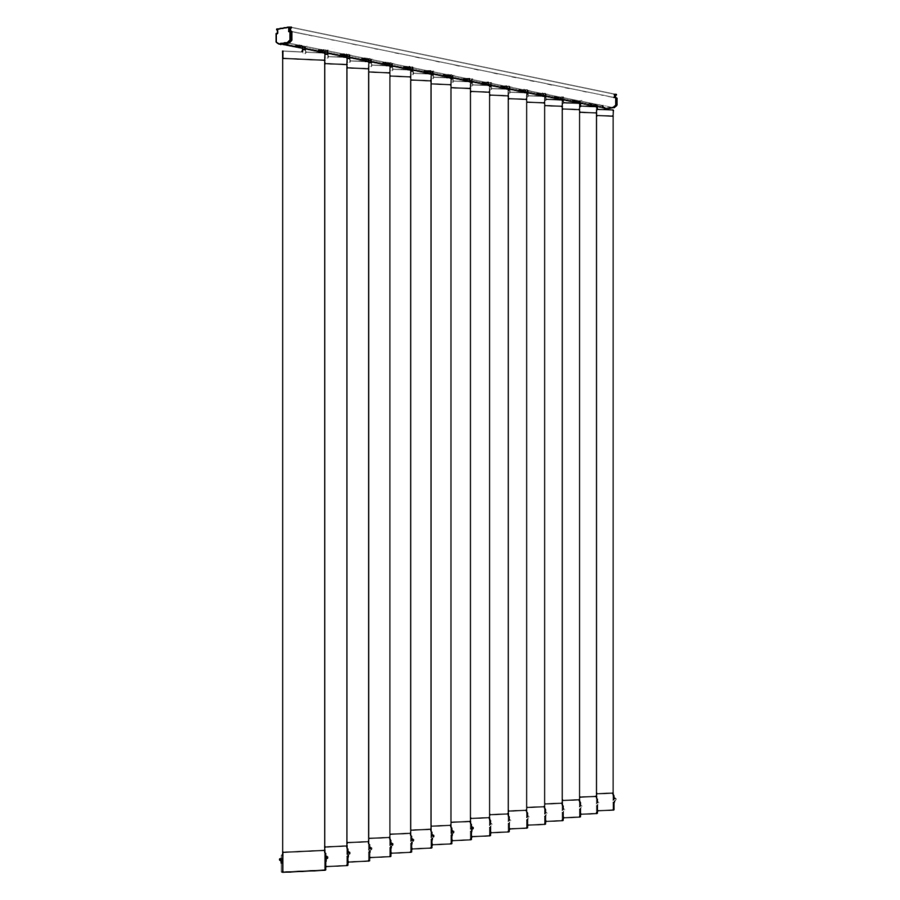 Left/Right & Free Flow Stack
2 panels 24" - 96"
3 panels 36" - 144"
4 panels 48" - 192"
5 panels 60" - 216"
6 panels 72" - 216"
7 panels 84" - 216"
Split Stack
4 panels 48" - 168"
6 panels 72" - 216"
8 panels 84"- 216"
10 panels 120" - 216
Left/Right & Free Flow Stack
2 panels 1 1/4"
3 panels 1 1/4"
4 panels 2"
5 panels 2"
6 panels 2 1/4"
7 panels 4"
Split Stack
4 panels 1 1/4"
6 panels 2"
8 panels 2"
10 panels 2 1/4"
Left/Right & Free Flow Stack
2 panels 1 5/8"
3 panels 2"
4 panels 2 3/4"
5 panels 3 3/8"
6 panels 4"
7 panels 4 3/4"
Split Stack
4 panels 2"
6 panels 2 3/4"
8 panels 3 3/8"
10 panels 4"
All Stacks
2-5 panels 2 1/8"
6 panels 2 1/2"
7 panels 2 1/8"
Product Reviews