Product Information
Why You'll Love Them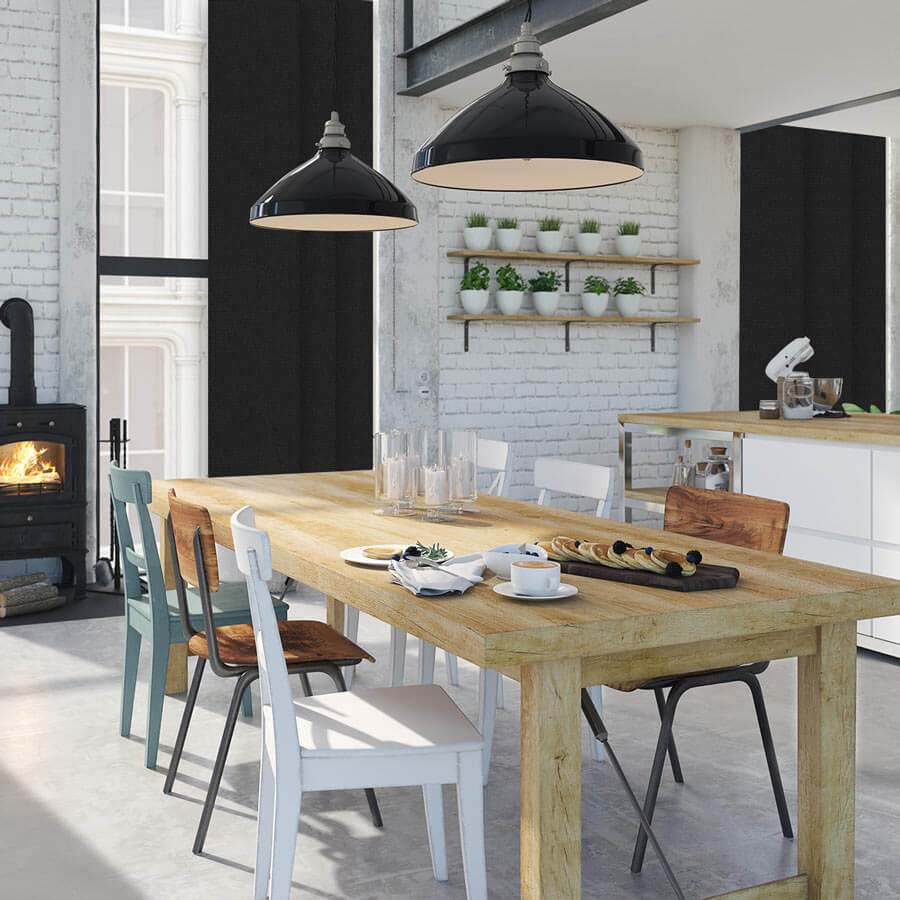 Reduce Light
Effectively block out unwanted light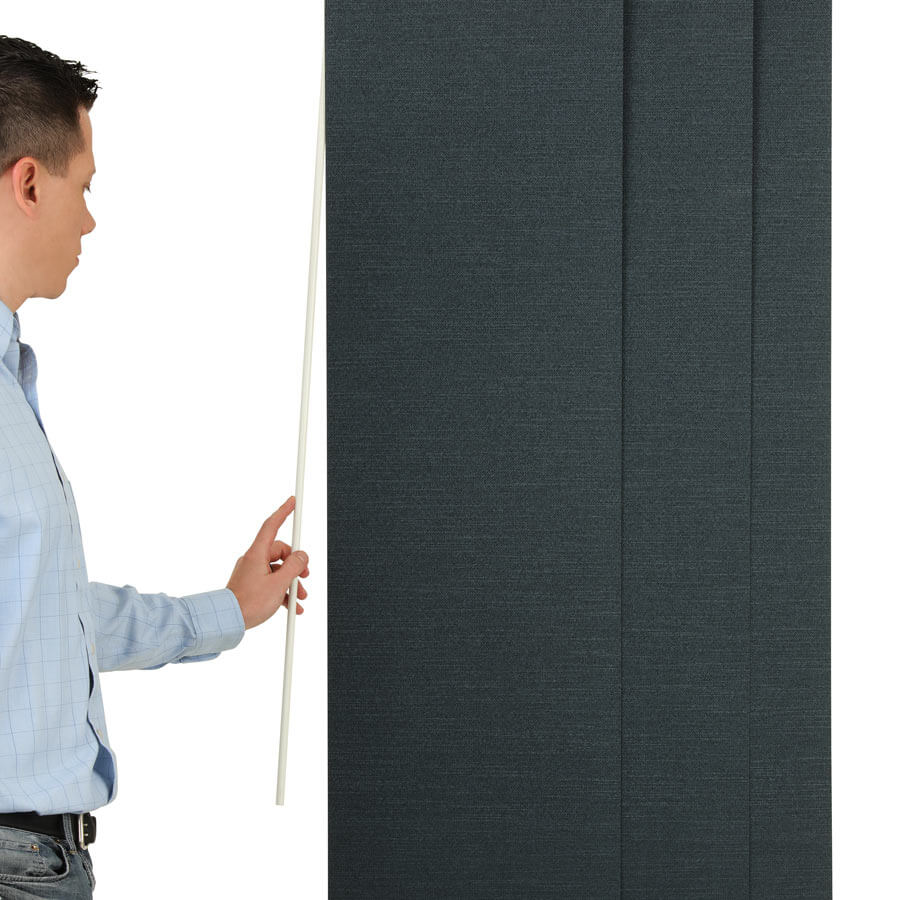 Easy to Use
Cordless, easy-to-use wand control available
How They'll Help You
Need a new idea for covering patio and sliding doors with something other than plain old vertical vanes? Slide into something more modern and completely change your view on verticals with these wide-panel Designer Elements Blackout Panel Tracks. These gorgeous blackout sliding panels are available in a variety of fabric patterns, textures, and colors. They are the best for keeping bedrooms, media rooms, and nurseries dark, but not dreary. The innovative tracking system prevents gaps between the headrail and panel tops. The overlapping panels help protect your privacy.
You can cover as much or as little of the window as you want. Turn a large window into a well-designed fashion statement with up to eight panels (four on each side). The sliding window panels are cut to your exact measurements and custom-made for windows. Note that the width of each panel will depend on the total width of your window and on the number of panels you order. Versatility is the strength of these high-quality custom window blinds. Think "outside the window frame" and use them as stylish room dividers. Simple to install. Hang them anywhere to easily create private spaces or hide unsightly clutter.
The quality-constructed components include the sleek aluminum headrail that come in white or gray. It offers a clean, contemporary look. The fabric-wrapped weighted bottom rails keep the panels neatly aligned and wrinkle-free. The cordless wand can be ordered on the right or left, with a coinciding stack, making your blinds more child-safe.
Sample First
Concerned about getting the correct color, pattern or material? Don't be. We'll send you up to 15 free samples of any product so you can order with confidence and know exactly what your custom color will look and feel like. And we'll ship them to you for free!
Pick Your Color / Get FREE Samples
Happy Customers
"Great value and easy to install. These are well constructed and the rails are very sturdy. Brackets click in easily. Look great."
- Steve B., Arizona
"This full clean look has no seams, allowing a full-fabric look to soften the room."
- Josette B., Florida
See More Reviews
Specifications
Recommendations
Panel Overlap - 2".
The calculation for finding panel width is: ordered track width/ panel count= panel width within 2" overlap.
Light Gap - No light gap between rail and panels. Inside Mount - Height: 1/2" less than ordered height. Width: 3/16" light gap on both sides of the panel track. Outside Mount - to avoid light gaps, we recommend adding 5" to the ordered width, or 2 1/2" on either side. Deductions may vary +/- 1/8".
Split stack is only available with a continuous cord loop lift system.
Left stack and right stack are only available with wand.
Wand Location - Left or right stack side of leading end of first panel depending on stack location selected.
For products ordered over 100" wide, the track will be split in half and a connector bracket will be included.
Track systems are aluminum.
Panels may have an approximate 1/2" deep gap between them.
Dimensions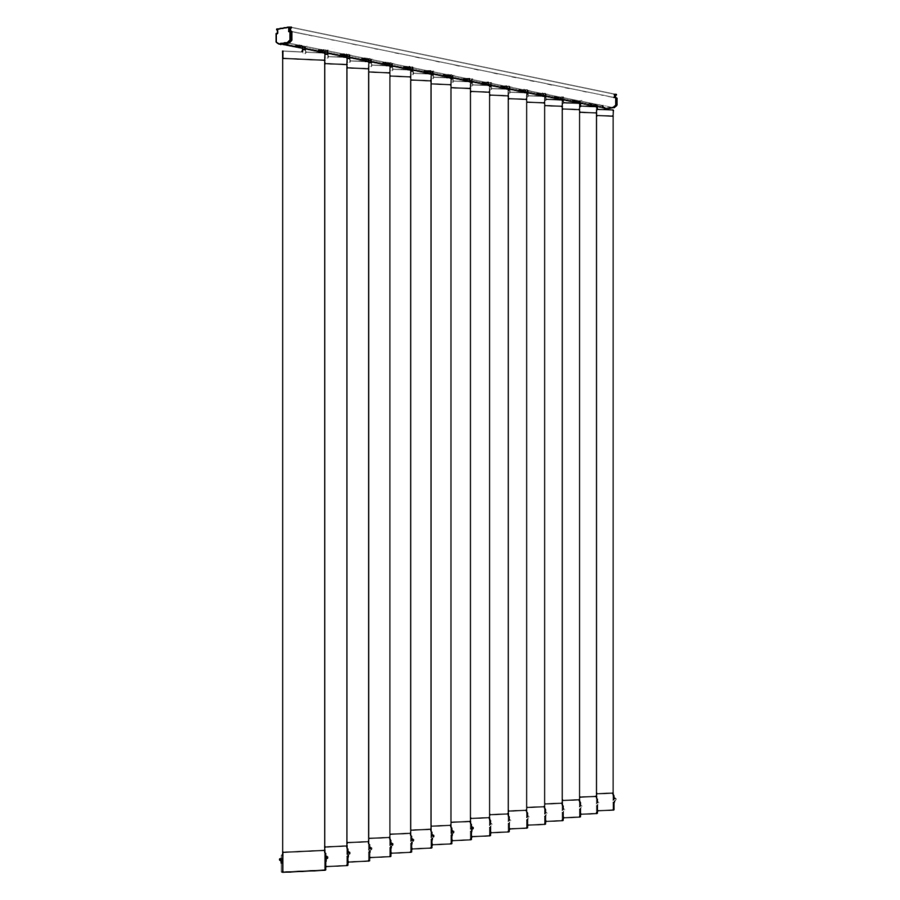 Left/Right Stack
2 Panels 18"-72"
3 Panels 18"-120"
4 Panels 48"-168"
5 Panels 60"-216"
Split Stack
4 Panels 24"-168"
6 Panels 60"-216"
8 Panels 96"-216"
Left/Right Stack
2 Panels 1 1/4"
3 Panels 1 7/16"
4 Panels 2 1/16"
5 Panels 2 1/4"
Split Stack
4 Panels 1 1/4"
6 Panels 2 1/16"
8 Panels 2 1/4"
Left/Right Stack
2 Panels 1 9/16"
3 Panels 2"
4 Panels 2 11/16"
5 Panels 3 3/8"
Split Stack
4 Panels 1 9/16"
6 Panels 2 11/16"
8 Panels 3 3/8"
Inside Mount
Outside Mount
Product Reviews