Product Information
Why You'll Love Them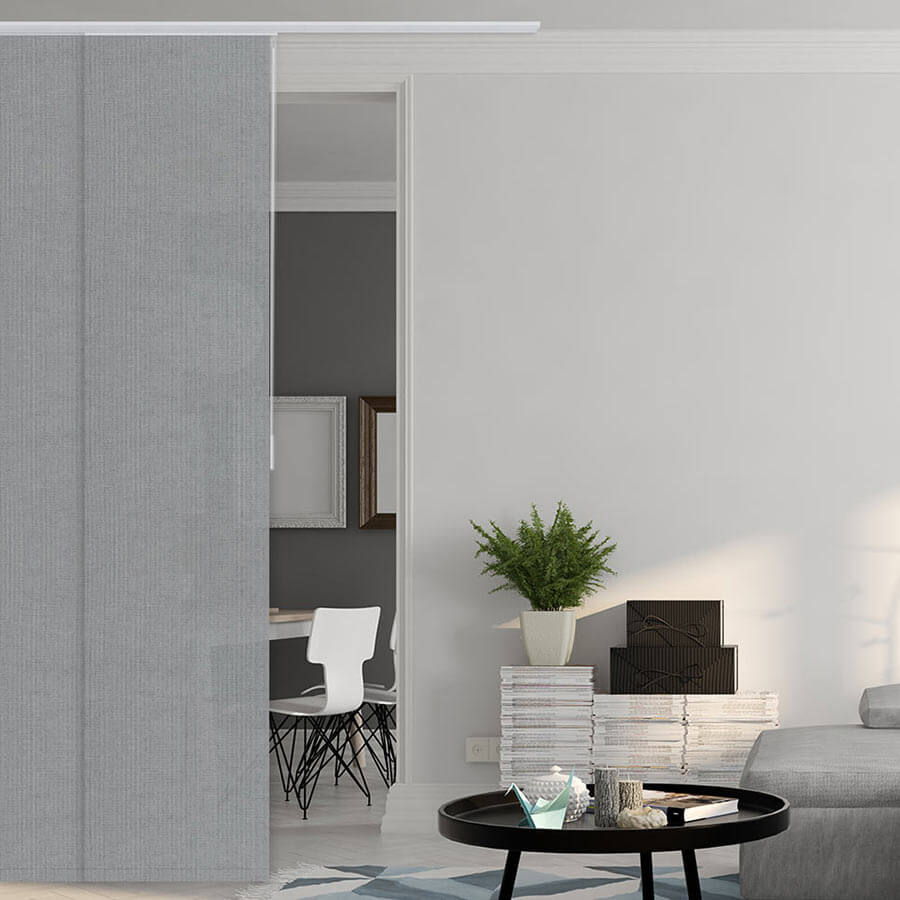 Divide Spaces
Create extra living spaces with unique ceiling mount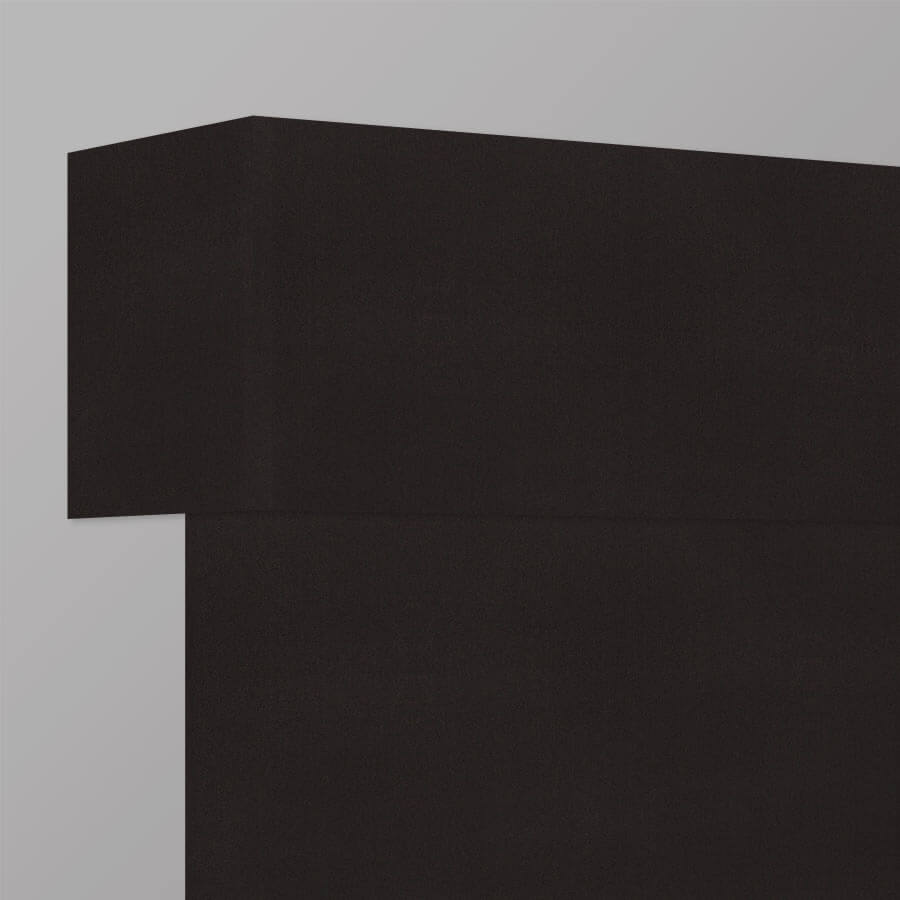 Design & Function
Optional fabric-wrapped cornice available
How They'll Help You
Designing in today's living spaces need to be more flexible and offer more functionality than ever before. Window treatments included! Covering large windows and doors in small areas with different degrees of light and privacy needs can be challenging. But you can do this! With Architect Blackout Panel Track blinds, you're the architect of your own design!
Privacy can be hard to come by in smaller spaces. These designer-quality panels can help you protect it. Block out the world and wrap your rooms in softer light with room darkening fabrics to complement any decor plan. This curated collection of wider, vertical panels comes in sets of two to 10 panels for a wide set of possible coverage options. The track system lets you adjust the position of each panel to easily control light and privacy. Because they stack neatly behind one another, you can quickly change the look and feel of your indoor space.
For more flexibility, hang them as ceiling mounts to divide up your space or to create storage areas. Want to replace those outdated bi-fold doors? These panel tracks are the best for hiding unsightly messes. Especially in your teen's closet! Expand the look of your living spaces when you coordinate them with Architect Blackout Roller Shades. Blend the look of your window and door treatments. Raise eyebrows with an optional fabric-wrapped cornice board for a crisp, tailored look from the top to the fabric-wrapped bottom rail. This specially designed panel track system also features a cordless wand control to smoothly open and close your blinds. No dangerous cords to distract kids and pets or interfere with their streamlined look. All the hardware you need to hang them is included, too. If you do need help, our panel of window treatment experts are always available to assist.
Sample First
Concerned about getting the correct color, pattern or material? Don't be. We'll send you up to 15 free samples of any product so you can order with confidence and know exactly what your custom color will look and feel like. And we'll ship them to you for free!
Pick Your Color / Get FREE Samples
Happy Customers
"SelectBlinds.com has an easy to use ordering portal and is so easy to work with! I requested some samples, which I received promptly for free. I was thinking of going with Blind Chalet, but SelectBlinds.com had better prices, good quality and a quick turnaround."
- Adam T., Phoenix, AZ
"Very pleased with our blinds. Price is fair, installation was easy. Very nice product."
- Robin, Black Hawk, CO
See More Reviews
Specifications
Recommendations
Widths greater than 124" require a spliced track for maximum support. A spliced track is two tracks joined together.
Cornice boards wider than 124" will be made up of two separate cornices that are installed side by side.
Standard panel overlap: 1-1/2"
Inside mount deductions: 1/2" off of panels, 1/4" off of headrail. 1/2" off of height. Deductions may vary +/- 1/8.
There will be a 1/2" light gap at the bottom of the hanging panels.
Calculation for finding panel width is: Ordered track width + Appropriate panel count (provided below)/ Divided by how many panels ordered= Panel Width (Round up to nearest 1/8")
Appropriate Panel Count: 2 panels + 3", 3 panels + 6", 4 panels + 9", 5 panels + 12", 6 panels + 15", 7 panels + 18", 8 panels + 21", 10 panels + 27"
For example: If you are ordering a track at 70" wide with 7 panels- 70+18= 88/7= 12" panel width.
Total height includes panels plus the track. Panels will be approximately 1-3/8" smaller than height ordered for inside mount and 1" for outside mount. With a cornice, it will be 2-1/4" smaller than height for inside mount and 1-7/8" smaller for outside mount.
There is no light gap between the rail and the panels.
Overall panel track will be 3/8" less on width and 1/2" on height.
Outside mounted panel tracks that are left or right stack will have the wand placed on the leading edge of the front panel. All other configurations will have the wand placed behind the leading edge of the front panel, hidden from view. Free Flow panel tracks will not have a wand.
Right control stacks panels on the left. Left control stacks panels on right. Free flow panels can be stacked anywhere.
If outside mount is selected ceiling mount hardware will need to be requested through customer service.
Please note that the back of each shade may not match the front of the shade. In most cases the Essential Collection will be a similar color to the front while the Lifestyle and Architect Collections will be white. Please order samples to ensure you are happy with the color on both sides before ordering.
Panels may have an approximate 1/2" deep gap between them.
Dimensions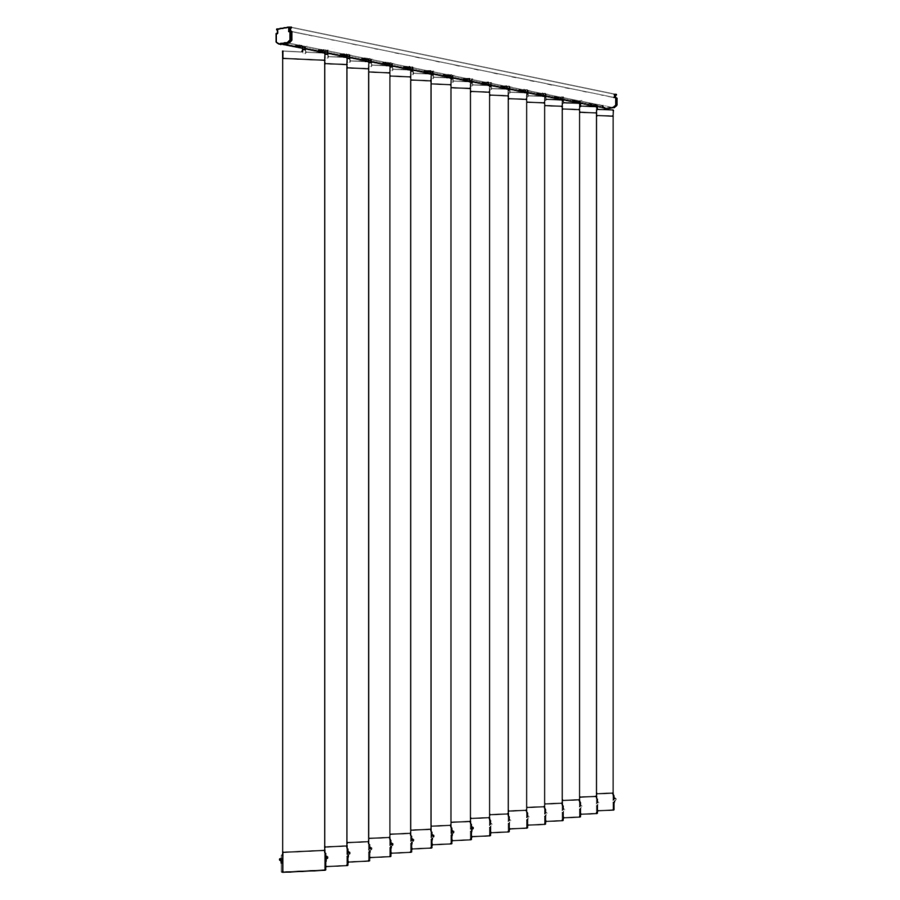 Left/Right & Free Flow Stack
2 panels 24" - 96"
3 panels 36" - 144"
4 panels 48" - 192"
5 panels 60" - 216"
6 panels 72" - 216"
7 panels 84" - 216"
Split Stack
4 panels 48" - 168"
6 panels 72" - 216"
8 panels 84"- 216"
10 panels 120" - 216
Left/Right & Free Flow Stack
2 panels 1 1/4"
3 panels 1 1/4"
4 panels 2"
5 panels 2"
6 panels 2 1/4"
7 panels 4"
Split Stack
4 panels 1 1/4"
6 panels 2"
8 panels 2"
10 panels 2 1/4"
Left/Right & Free Flow Stack
3 panels 2"
4 panels 2 3/4"
5 panels 3 3/8"
6 panels 4"
7 panels 4 3/4"
Split Stack
4 panels 2"
6 panels 2 3/4"
8 panels 3 3/8"
10 panels 4"
All Stacks
2-5 panels 2 1/8"
6 panels 2 1/2"
7 panels 2 1/8"
Product Reviews