French Door Window Coverings
French doors, while beautiful, can be difficult to stylishly cover. The most important thing to remember during your search is that you have options, and a lot of them. All these options give you complete control in finding French door blinds that fits with your ideal style.
Don't feel trapped with only window coverings made specifically for doors. We offer fully customizable options, so you can turn any of your favorite window blinds into door blinds. With the ability to customize and individualize window coverings, your options are endless.
One main complaint from French door owners is that many window coverings disable the door's functionality, completely blocking the door handles or the window coverings flopping around when the door is in use. If you choose the right window covering, that won't be a problem any longer, and here are a few of the right French door coverings. Now it's up to you to narrow it down to one.

Wood blinds offer a feeling of elegance, sophistication, and warmth. If you're looking for a more natural vibe to your space, wood blinds can give your home a rustic feel. Wood blinds make a bold statement in any room they're used.
Options and Benefits:
Hold Down brackets are included for outside mounted Designer Basswood Blinds, so you can get the sturdy hold you would from a shutter with horizontal blinds. Hold Down brackets secure the bottom of the blinds to the door, so the door is functional and the blinds do their job without noise and commotion.
Some are guaranteed to be made in a single day or you get them for free.
Motorized option
Faux Wood Blinds >>> Shop Now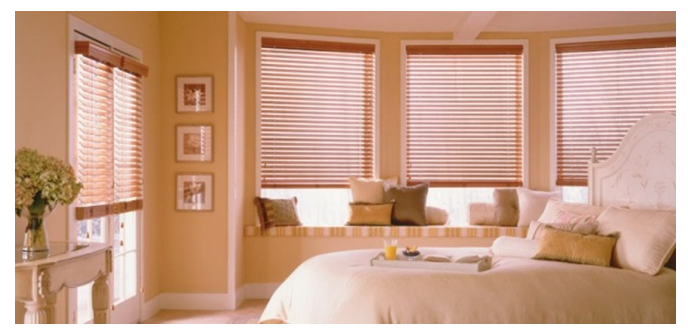 Faux wood blinds are great in humidity, making them the perfect French door solution for bathrooms and kitchens. They are sturdy and durable, and they look like real wood, so you get the best of both worlds.
Options and Benefits:
UV coating on some, preventing sun damage and color deterioration.
Low maintenance.
Resistant to extreme heat and to moisture.
More affordable than real wood blinds, but they look just as good.
Easy to clean.
Cellular Shades >>> Shop Now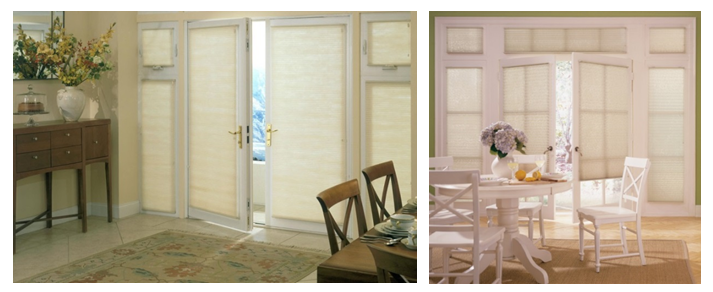 Cell shades are a modern option for French doors that increase your home's energy efficiency. Cell shades are insulated and keep the temperature in your home comfortable. Because of the cellular shade design, smaller sized honeycomb shades can easily be placed behind the door handles, keeping your door functional, insulated, and stylish.
Options and Benefits:
Choose between light filtering or blackout cellular shades. Light filtering shades gives a warm feel to any room while blocking out the outside weather and the harmful UV rays.
Cell options include 9/16", 3/8", 3/4", and 1/2".
Top down, bottom up cell shades can be operated traditionally or the top can be pulled up so you can have natural light while still retaining your privacy.
Cordless options available, making your home safe for children and pets.
Roman Shades >>> Shop Now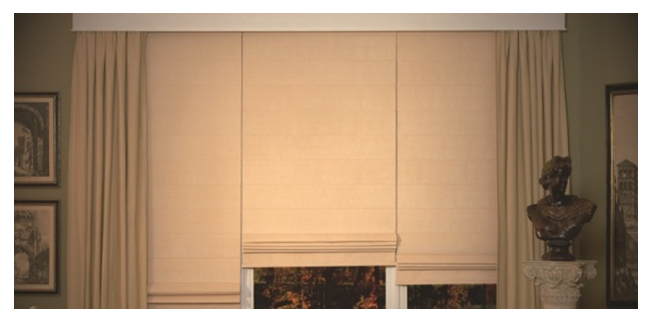 These shades instantly create elegance and sophistication. They drape beautifully over both windows and doors, and you have many patterns, colors, fabrics, and styles to choose from, enabling you to create a one-of-a-kind look for every room of your house.
Options and Benefits:
Four different folds to choose from: Classic, European, Flat, and Hobbled.
Room darkening, light filtering, and blackout options.
Light filtering and blackout Roman shades are great for rooms with electronics, like a computer or TV, as they reduce glare.
Can choose top down, bottom up Roman shades to have privacy and sunlight.
Easy to install.
Was this article helpful?