Product Information
Why You'll Love Them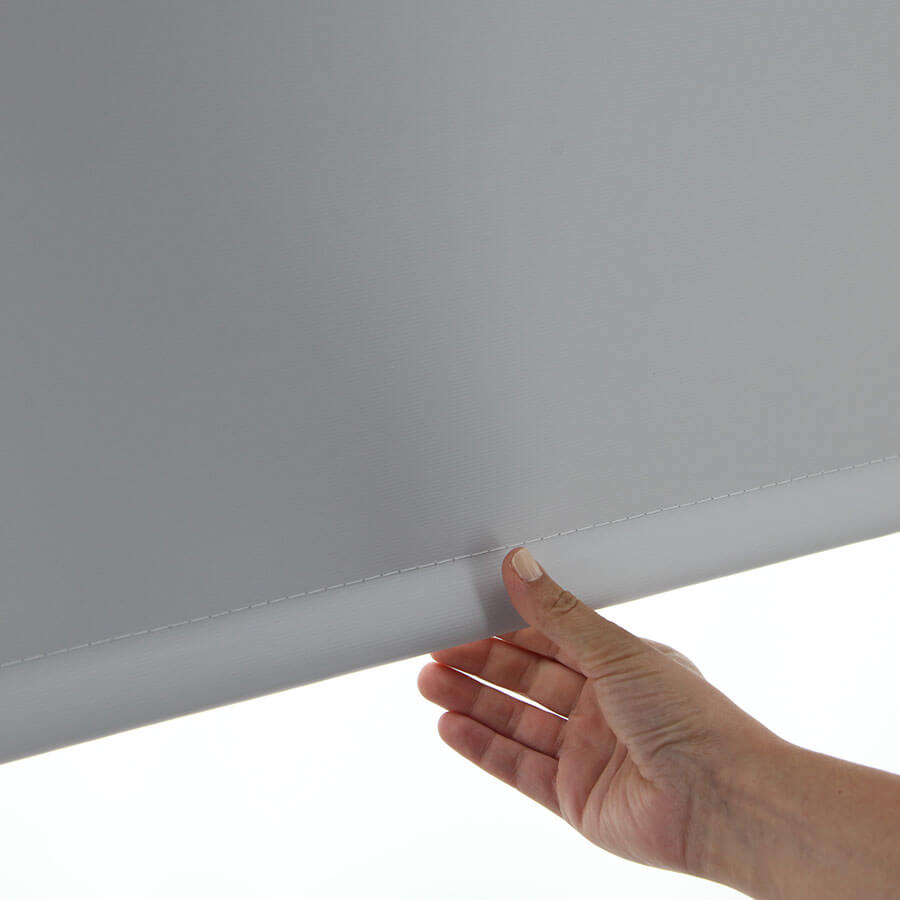 Free Cordless
Kid-friendly cordless lift comes standard
Durable
Made of laminated vinyl fiberglass for extra strength
How They'll Help You
The cost of moving into a new home can leave you with little wiggle room when it comes to accessorizing your new abode. But, at the same time, you can't get a good night's sleep with bright streetlights and the rising sun streaming through bare windows. Finding cheap blackout blinds that don't look that way can be a challenge. So what's a new homeowner to do? Thank goodness you don't have to win the lottery or refinance to afford these Classic Vinyl Blackout Rollers.
The smooth, sleek look of these well-made light-blocking shades impress undoubtedly, though quality construction and wonders belies their budget-friendly price. These long-lasting, room darkening sun-out roller shades are made of flame retardant vinyl fiberglass. They are then laminated with another layer of vinyl for extra strength and durability. You'll love how they look inside your home, and the white backing gives the outside of your home a uniform look HOA's love, too. Available in popular neutrals and solid tones, this pleasing pleather blackout roll-down shade works with a variety of interior styles and decors. (That's why the Fab Five on Netflix's Queer Eye chose them for one of their makeovers!) Use them under panel drapes for a one-of-a-kind layered look. Don't want to see the white backing at the top of a standard exposed roll? Order the roll position in reverse so the fabric falls over the front of the roller instead.
You can also customize either roll style using a matching cassette headrail with fabric insert to hide the roller entirely. They come standard with a classic continuous cord loop to pull them up and down. If you want to keep your new walls and windows looking clean and seamless, order them with a free, kid-friendly cordless lift. An affordable, rechargeable motorized lift is also available with a 1-, 6-, or 16-channel programmable remote. Operate one or multiple window coverings, together or separately, from anywhere in the room with a single remote. Pair with the SelectConnect Bridge upgrade, which integrates with the free Bond Home app, and/or with Amazon Alexa/Echo and Google Home. Open and close your new roller shades from your smartphone or tablet, or completely automate when they open and close with voice commands. Schedule them all to open and close all together, by room, or individually. Get the light and privacy you need in your home working like clockwork, on your schedule. Enjoy more easy living!
Fabric Content List

Sample First
Concerned about getting the correct color, pattern or material? Don't be. We'll send you up to 15 free samples of any product so you can order with confidence and know exactly what your custom color will look and feel like. And we'll ship them to you for free!
Pick Your Color / Get FREE Samples
Happy Customers
"I was very pleased with my vinyl roller shades! I looked in every store I could think of..on and off line..and no one had these particular shades anymore! I like them for the ease of cleaning and the look! They do not collect the dust and grime that blinds do. These shades are of exceptional quality and they look absolutely fabulous in all of my rooms! I am extremely happy with them and the money that I saved!!"
- Judi, Fitchburg, MA
"On the advice of a co-worker, I ordered roller shades from selectblinds.com. The price and product were great, and the service was excellent. It took two days to make, ship, receive my product. I would absolutely recommend this company to a friend and order again the next time I need window coverings."
- Richard L., New York
See More Reviews