Product Information
Why You'll Love Them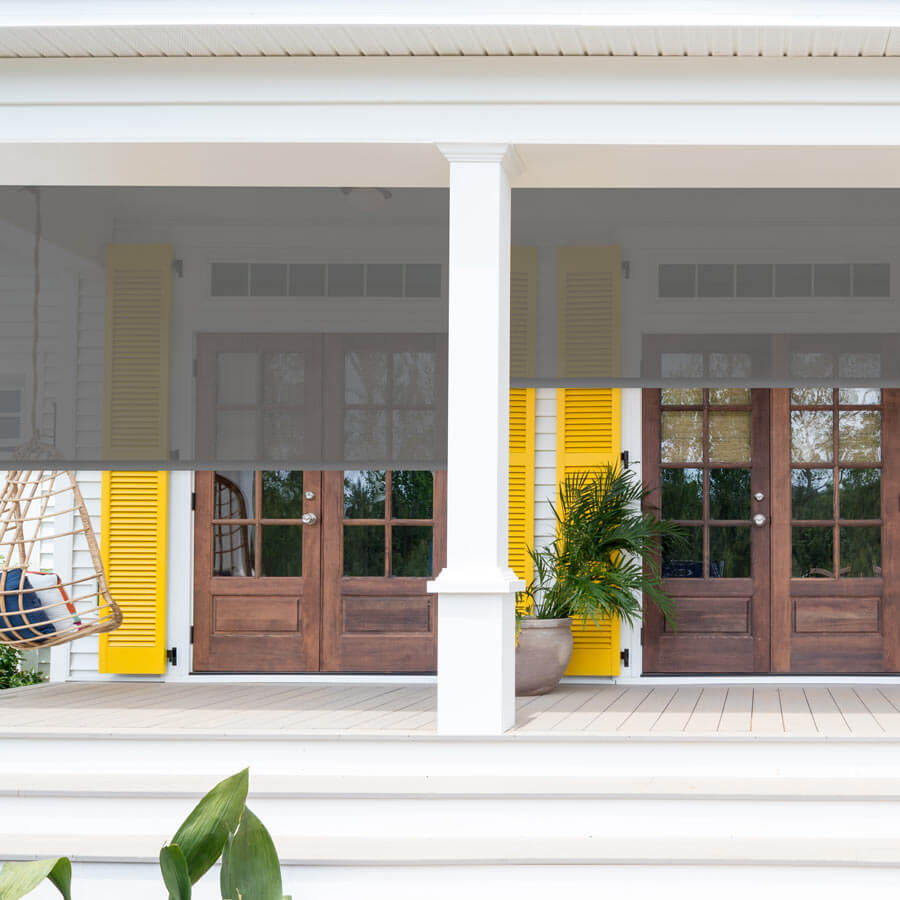 Keep the View
Subdues harmful UV rays, without getting in the way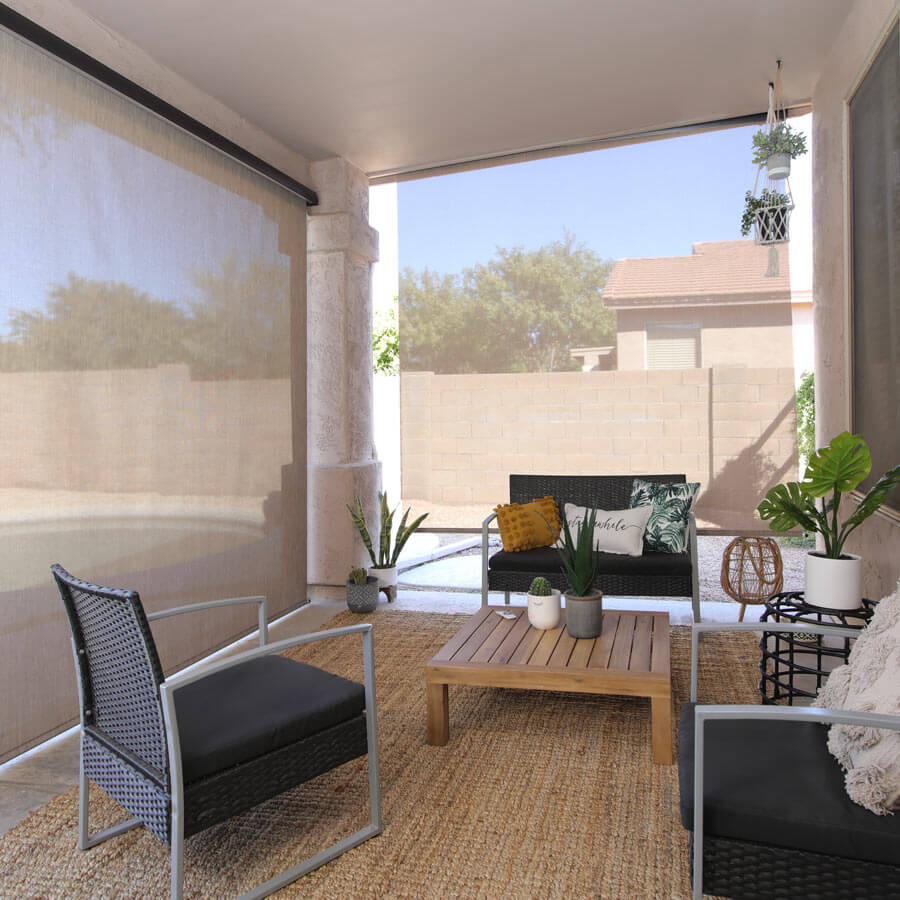 Easy to Use
Rechargeable motorized operation saves money; no batteries or wiring required
How They'll Help You
You wear sunscreen to protect your skin outdoors, right? Protecting your outdoor living spaces from the sun is important, too. These motorized exterior solar shades are the perfect SPF for patios and people. Apply liberally to your windows' exterior, on covered porches, decks and gazebos to stay cool and comfortable. Exterior window coverings add an extra layer of protection that can reduce heat from the sun before it hits the glass on your windows. This helps make your interior window treatments even more effective, so you save money on energy bills.
Enjoy outdoor living longer. You can leave these heavy-duty outdoor sun shades up year round to protect your outdoor furniture from fading. You don't have to worry about them rusting, either. They're weather-resistant and come with a sturdy cable tie-down system to hold them steady when light wind blows. The protective valance keeps the rechargeable motor running on one charge for up to six months.
You can operate up to five coverings with one remote from inside your home or out. They look sun-sational, too. The gorgeous PVC fabric comes in your choice of openness factors -- 5% or 8% -- that block heat from the sun and up to 92% of glaring UV rays, so you can read, use your phone, or watch T.V. without squinting.
You'll feel safer, too, knowing the fabric of your Lifestyle Outdoor Motorized Shade is flame retardant and has no harmful chemicals in it, so it can even be used indoors and around children. It's also been approved by the Melanoma International Foundation for preventing sun damage to skin and eyes.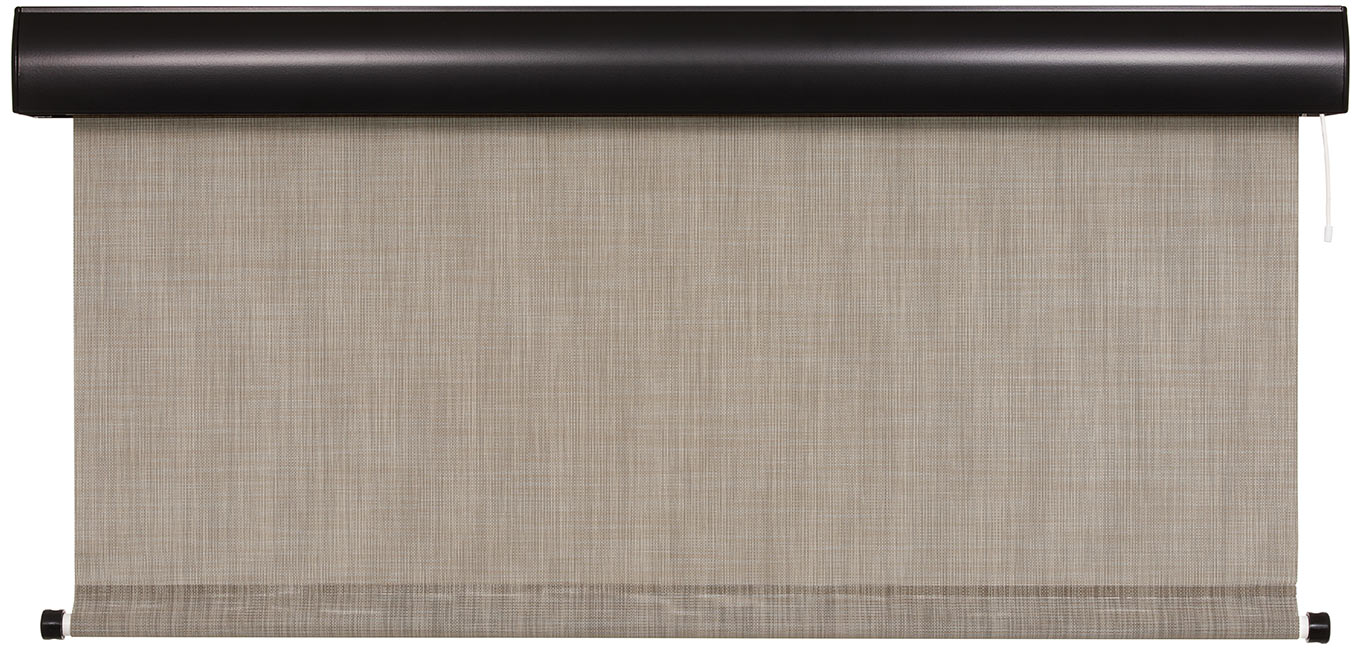 Sample First
Concerned about getting the correct color, pattern or material? Don't be. We'll send you up to 15 free samples of any product so you can order with confidence and know exactly what your custom color will look and feel like. And we'll ship them to you for free!
Pick Your Color / Get FREE Samples
Happy Customers
"Ordered two of these to put on the patio and cool it down so we can enjoy more time outside in our backyard. I am so impressed with the heat control and love being able to block out the view from our neighbors and pool equipment. These were incredibly easy to install and the motorization is fun to show off to my friends. These are bound to get some compliments on our next patio party."
- Gareth, Arizona
"We have an almost full wall of lanai doors at the end of the great room and then there is a screened lanai. We needed something to allow light but give some privacy. Did not want to hang anything inside. This can easily be controlled from inside and does just what we wanted. It is hung on the outside of the triple door and works silently from inside. Love it! Easy to hang too which was a surprise."
- Felten, Bradenton, FL
See More Reviews