Product Information
Why You'll Love Them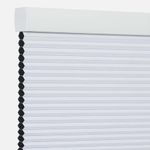 Room Darkening
Stylish 3/8" pleats block light, unwanted air and noise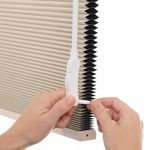 Easy to Use
Available with exclusive motorized wand, USB charger
How They'll Help You
Making things look great is your passion. Making them work just as well as they look, your mission. So when a product comes along that meets both requirements, well, it's impossible NOT to get excited, right?
Get the best of both style and function with these amazing Lifestyle Blackout Cellulars. Choose from a variety of lift styles to transition from day to night (and back), thanks to the 3/8" foil-lined honeycomb cells that block light, heat, even noise! The pretty pleats in these hard-working custom window treatments will help keep your home comfortable and reduce energy bills year-round.
Add even more modern convenience to your lifestyle when you add an affordable, cordless motorized wand that does all the "heavy lifting" for you. Use it to program your shade's upper and lower limits. You can even pre-set a "favorite" position that your window covering automatically stops at when you press the button. The sleek, rechargeable wand is ergonomically designed to respond to the lightest touch. To get things moving, simply plug it into the USB port on the headrail. There's also a micro USB charge port on the back of the wand to easily recharge it when needed.
These stylish custom blackout blinds are made from durable, easy-care polyester fabric that will hold its shape for years. They hang straight and even from an all-aluminum headrail and steel-weighted bottom rail. And everything on these sweet honeycomb window treatments – even the end caps -- are color-coordinated to complement the fabric on the front. (White fabric on the back gives your windows a clean, cohesive look from the outside.)

Sample First
Concerned about getting the correct color, pattern or material? Don't be. We'll send you up to 15 free samples of any product so you can order with confidence and know exactly what your custom color will look and feel like. And we'll ship them to you for free!
Pick Your Color / Get FREE Samples
Happy Customers
"Used another company recommended by my brother-in-law in the past. After three requests for free samples (which I still haven't received), I tried SelectBlinds. WOW! Requested samples which came in a week, requested a second set of samples (different colors) which also came in a week. SelectBlinds are better quality shades, with better hardware. They were shipped in very protective packaging and included very well written, easy to understand instructions. Even though these cost about 15% more, I wouldn't hesitate to buy from SelectBlinds again. The difference in price is more than offset but the quality of the product. Highly recommended."
- Neal B., Hopewell Junction, NY
"I need complete darkness when I sleep. I was fine until my husband installed really bright lights outside the house, so I ordered this product for over the sliding door. We installed it ourselves; it was simple and easy to do. The room is SOOO much darker at night now. I LOVE these. We have 2 windows in the room and the next step is to get the same product for both windows. :) "
- Mary J., Titusville, FL
See More Reviews